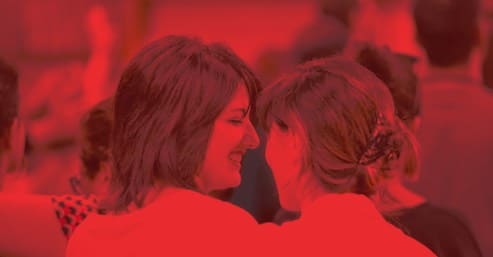 Leadership Development
Transform Iran is committed to developing leaders that will transform Iran and the surrounding region.
Our work centers on the three core pillars of evangelism, discipleship and transformation. When we say 'discipleship' we also consider leadership development – because true discipleship includes leadership development. We believe every disciple is called to lead in one way or another; to impact their world and to reproduce (2 Timothy 2:2 – "And the things you have heard me say in the presence of many witnesses entrust to reliable people who will also be qualified to teach others"). Not all are called to lead in a traditional sense. But all are called to life-long discipleship and growth that leads to much fruit for the glory of God.
Through the course of discipleship, our senior pastors are always thinking: what is the calling of this person? How can I help develop them to be all that they were called to be? How can I equip and resource and release them in their own call to 'go and make disciples'?
And so discipleship flows into leadership development. Disciples making disciples making disciples; leaders raising leaders raising leaders. Each maturing and passing what they have learnt on to others.
Transform Iran provides strategic leadership development to emerging and seasoned leaders through 1:1 counseling and mentoring, intensive in-person training seminars, and a host of digital and printed media designed to support and equip leaders as they grow in anointing and in maturity. These include:
Mentoring. Senior pastors personally mentor, disciple and develop leaders 1:1 as they pursue God's call to lead ministries, plant churches and disciple and mentor others.
Training Events. Emerging leaders and leaders of underground house churches are invited to week-long intensive training weeks where they dive deep into the Word, learn essential leadership skills and build community with others serving across the Transform Iran network. These training and equipping events build up, support and grow the underground church in Iran and are run in secure locations in the Middle East. Thousands have been trained and developed in this way.
Bible College. A free online Bible course in Farsi, our online Bible College (with almost 1,000 active registered students) removes the cost barriers to such in-depth study of the Word, and offers clear, well-prepared theological lessons, scaling in depth, to help Farsi speaking Christians mature in their faith and equip them for ministry.
Apologetics. 'Porpasokh' means 'Question & Answer' and that is the heart of our apologetics center. Transform Iran's Porpasokh site draws tens of thousands of visitors each month and engages directly with the questions of those still trying to understand certain aspects of faith and theology. Answers are published on the site for others to benefit. To date more than 5,900 answers have been published and many have been strengthened in their faith as a result. As well as a powerful tool for evangelism, Porpasokh also supports young pastors who rely on the resource to help them answers questions their converts are asking them. Read more here.
Freedom in Christ. We partnered with the wonderful authors of the Freedom in Christ course, translated the material to Farsi, and adapted and expanded it for an Iranian audience. This is a critical Bible-based discipleship and deliverance tool for Christians, ensuring churches grow healthy through personal breakthrough, freedom and fruitfulness for believers. To date, more than 1,600 have completed it. All leaders at Transform Iran complete this course as part of their own personal development and growth.
Publications. Transform Iran protects the doctrinal integrity of the Church in Iran by providing a wide range of Bible-based resources (printed and digital) through its publishing house, 222 Publications. 222 Publications identifies gaps in printed and digital media for the Farsi speaking church and publishes the materials needed to meet those gaps for a growing global church. 222 Publications does this as close to cost price as possible in order to ensure maximum accessibility of these resources for those who need them.
Bible Translation. Some 26 million Iranians do not have the Word of God in their own 'heart' language. Though the core mission of this work is evangelism and early discipleship, Bibles in the heart language also become essential tools in leadership development as they allow believers to truly understand the breadth and depth of what they are reading, and use it powerfully as they study and teach the Word of God to others. This creates stronger, longer lasting churches that make a real impact on their communities. You can read more about our Bible translation work here.
Because Transform gives lots of people opportunities, people who might have been 'small' in the opinions or eyes of others, get the opportunity to really serve and grow here. And the result is a wonderful network of powerful leaders making a huge difference together!
I've seen in the church and in conferences how people are not kept down. They are trusted with the space to grow where they are. And QUICKLY these young disciples turn to potential leaders. I have benefited from this myself! I came to know the Lord, was discipled, then within two years I had planted a church. Now I am serving as an overseeing pastor and ministry leader. Praise God!
There is a zeal and integrity amongst leadership here. No one is building individual kingdoms. We are united in a cause but it's also not even about the work we do – it's about the loving relationship we have with God and with one another. It is truly a community on mission together.
Thank you for how you have poured into my life and stuck with me all these years. I am forever grateful and committed to serving God to the best of my ability.

Donate Today
Funds go directly to ensuring the gospel is preached, converts are rooted in the Word, and leaders are raised that will bring the transforming love of Christ to Iran – and beyond.