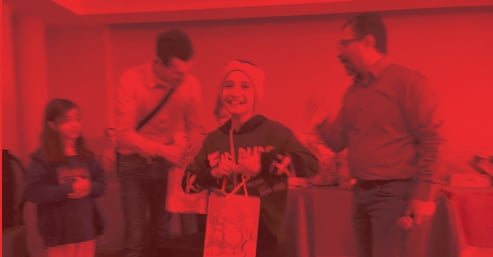 Operation Christmas Joy
Whether you're in Iran, Turkey, Armenia, Afghanistan or Pakistan, the situation now feels bleak. Being a Christian, being a refugee, facing the trauma of conflict and persecution, being poor in any of these countries is tough. Even more so for children experiencing these challenges where they are completely unable to change their circumstances.
Established in 2015, Operation Christmas Joy (OCJ) is at the heart, about sharing the joy of Christmas with children living in difficult circumstances.
It started as a response to the needs of refugees from conflict in the Middle East and has become a great operation which continues to impact children in many countries including Turkey, Armenia, Greece and Pakistan. "We want to let them know they have a Father who loves them and Jesus who came that they might have life." OCJ is an opportunity for us to look beyond our own community and see who amongst our neighbors need help. We have helped children from war torn countries and in refugee camps (including children who have had to flee Iraq and Syria). In 2021, OCJ impacted 1,579 children in seven countries. This was only due to the generosity of our partners.
We provide gifts to children that meet their practical needs and bring them a sense of joy. These include warm clothing or shoes, educational supplies, and that extra special touch in a personally selected toy and treat. Where possible, we invite them and their families to a joyful celebration. Here, they can play with others, enjoy seasonal entertainment, share about the gifts they have received and hear about the One who offers so much more, Jesus. Gathering children is really important, but so also is the opportunity for their families to participate in this joy.
OCJ is more than meeting needs. It is about expressing Jesus' love through His Bride, the Church. Caring for children reflects the values of family. OCJ brings hope to struggling families and connects people directly to Jesus and the gospel.
Until now, these children didn't know the meaning of a gift. Someone might give them money or old clothes, but what you did was their first experience of seeing and receiving gifts.
You made my children very happy by giving these gifts. I don't know how to thank you! May God bless each and every one of you!
This action of the church helped me see a practical expression of true Christian love. I personally thank you for this beautiful project.
My son's dream came true. Every time he puts on his jacket, he says: May God bless them, this jacket is so warm. Thank you for bringing God's blessing to our house.
This experience has shown me that the church is the hand of God, lifting up those in need.
The child's grandmother was very moved by this act of love and asked me about Christ. She asked me to teach her to pray. She explained that they are fed up with Islam and they are looking for the true God.
OCJ meets needs, brings joy, shows Christ's love, brings hope, and shares the gospel in a practical and meaningful way.
Would you help us to help a child this Christmas?
$75 (€75 or £65) allows us to purchase one child's package and creates the opportunity for a celebration.

Donate Today
Funds go directly to ensuring the gospel is preached, converts are rooted in the Word, and leaders are raised that will bring the transforming love of Christ to Iran – and beyond.