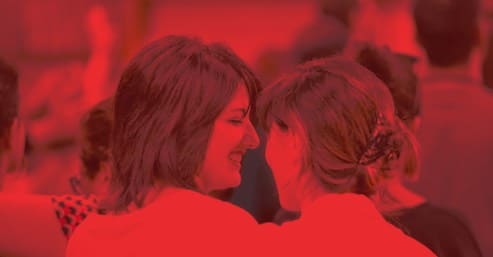 Discipleship
The Church is growing and Transform Iran is committed to discipling converts in order to ensure their faith is deeply rooted in the Word of God. Our trained 'follow up' team walks new believers through a year-long program, making sure they understand the basics of Christian doctrine, are equipped to evangelize, and supported as they plant new churches in their homes.
Transform Iran's discipleship model is built on 2 Timothy 2:2 – "And the things you have heard me say in the presence of many witnesses entrust to reliable people who will also be qualified to teach others". Disciples making disciples making disciples; leaders raising leaders raising leaders. Each maturing and passing what they have learnt on to others.
Transform Iran is committed to providing the necessary resources and tools to support effective discipleship – Bibles, worship, prayer and devotional materials, Bible study tools, 1:1 counseling and mentoring, trauma counseling, strategic training events and more. These include:
Bible Translation. Some 26 million Iranians do not have the Word of God in their own 'heart' language. Transform Iran is busy addressing this Bible poverty so that converts in Iran's ethnic groups can read and study the Word of God in their heart language, ensuring easier understanding and deeper connection. New churches in ethnic communities also benefit from these translations, supporting discipleship, teaching, prayer and worship in the heart languages of each ethnic group. This creates stronger, longer lasting churches that make a real impact on their communities. You can read more about our Bible translation work here.
Freedom in Christ. We partnered with the wonderful authors of the Freedom in Christ course, translated the material to Farsi, and adapted and expanded it for an Iranian audience. This is a critical Bible-based discipleship and deliverance tool for Christians, ensuring churches grow healthy through personal breakthrough, freedom and fruitfulness for believers. To date, more than 1,600 have completed it.
Bible College. For those ready to dive deeper, we offer a free online Bible course in Farsi. Our online Bible College (with almost 1,000 active registered students) removes the cost barriers to such in-depth study of the Word, and offers clear, well-prepared theological lessons, scaling in depth, to help Farsi speaking Christians mature in their faith and equip them for ministry.
Training Events and Conferences. Events are a key step in our discipleship program. These training and equipping events build up, support and grow the underground church in Iran. Delegates are invited to gather, learn, be edified, refueled and refreshed before returning to the mission field with renewed fervor and fire. For many this will be the first time they have gathered in such numbers or worshipped so freely. For others it will be a first opportunity for public baptism. They are certainly an essential part of the journey of supporting and developing young converts into powerful leaders. Transform Iran runs these events in secure locations in the Middle East. Thousands have been trained and discipled in this way.
Follow up. The follow up team underpins almost every area of ministry at Transform Iran. The trained team of counselors respond 1:1 to email, social media and telephone communications from Iran, answering questions, leading seekers to salvation, discipling new believers and planting house churches in their homes. For those who are willing, the team offer a year-long, weekly discipleship program that walks converts through all the basics of Christian doctrine, answers their questions as they grow in faith, trains them in evangelism, and equips them to lead house churches in their homes.
My name is Shiva and I am an Iranian medical student studying abroad. One day because of depression and anxiety, during a break, I was outside the hospital and I was crying. Two students from India came and invited me to church with them. I went and I loved the atmosphere but as they were worshipping, I said, I wish I would be able to worship in Farsi. I had not yet committed my life to Christ. I searched on the internet and I found Transform Iran's Persian Community Church.

When I reached out to them, they connected me to a pastor who talked to me and answered my questions. I committed my life to Christ. I was full of joy. Through Persian Community Church I participated in the Meeting Tent prayer meetings. Meanwhile I was being discipled by the same pastor who led me to the Lord (remotely). As my faith grew, Transform Iran's follow up continued to meet with me regularly and disciple me. This journey led me to enroll in the Bible College where I am studying now. By the way I had the opportunity to travel to Iran. I shared with my sister. She wanted to meet the pastor who had been discipling me. We made contact and he led her to the Lord too!

Donate Today
Funds go directly to ensuring the gospel is preached, converts are rooted in the Word, and leaders are raised that will bring the transforming love of Christ to Iran – and beyond.